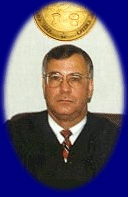 Law School:
Duke University Law School (1971)

Other Education:
Ohio Wesleyan University (1968)
Culver Military Academy (1964)

Office Address:
770 Mount Orab Pike
Georgetown, Ohio 45121
(937) 378-3638

E-Mail Addresses:




Term Ends:
December 31, 2006

Spouse:
Jane C. Zachman
Occupation: Curriculum &
Professional Staff Development
Coordinator at the Clermont
Counrty Educational Service
Center
Interests: Scuba divivng,
hiking, camping, reading, and
computers

Children:
Laura, Age 26
Associate, Foley and Lardner,
Attorneys at Law,
scuba diving, skiing,
water polo, boxing, hiking.

Elizabeth, Age 25
Second year law student
Tulane School of Law,
scuba diving, skiing,
backpacking through Europe,
counseling.


Judge Thomas F. Zachman


Professional/Bar Association Activities:
Life Fellow and Trustee of the Ohio State Bar Foundation, OSBA Board of Governors (1997-2000), OSBA Council of Delegates (2000-2002), Vice Chair to the Ohio Judicial Conference Court Technology Committee, Ohio Bar College, Lecturer Ohio Judicial College, 2002 New Judge Mentor, Chair OSBA Special Committee to Review the Report of the Ohio Courts Futures Commission, 2000 Bench-Bar Planning Committee, The Ohio Courts Digital Signatures Project, Education Committee Ohio Association of Municipal and County Court Judges, former member of the OSBA Real Property Law Section Board of Governors, former member of the OSBA Taxation Section, Secretary and Trustee of the Ohio Municipal and County Court Judges Association, former member Criminal Law & Procedure Committee Ohio Judicial Conference, Past Trustee of the Brown County Law Library; member and past president of the Brown County Bar Association; member of the Ohio State and American Bar Associations, member OSBA Traffic Committee (2002), Brown County Municipal Court Judge (1988-2002), Administrative Judge Brown Municipal County Court (2002), Admitted to practice before the Ohio Supreme Court, the US District Court, Southern District of Ohio, the United States Supreme Court.

Community Activities/Offices/Awards:
Outstanding Vietnam Era Veteran Brown County, Special Agent Office of Special Investigations (OSI) 1971-1972, USAF JAG Appellate Review Officer (1972), Village of Ripley Outstanding Citizen (1988), United Appeal Community Service Award, Outstanding Public Service Resolution, Ohio Senate, Village Solicitor (1975-1988) Aberdeen, Ripley, Ohio,Past president, advocate and board member of the Southern Ohio Health Services Network; past chairperson and coordinator of the Brown County United Appeal; past chairperson of the Board of Trustees of the Union Township Public Library; secretary and past president of the Ripley Kiwanis Club; Past member Board of Trustees, Girl Scouts of America, Licking Valley Council, past member Board of Trustees, Limestone YMCA, Troop Committee Chair, Boy Scout Troop 424, Ohio mock trial advisor for RULH school system 10 years, past chairperson of the Ripley Disaster Relief Committee, former treasurer of Ripley Heritage Inc., served as a volunteer fireman for 13 years.

Interests:
Judge Zachman declares himself a scuba diving enthusiast with emphasis on WW II shipwrecks. He has completed three excursions to Truk Lagoon highlighted by 180 foot decompression dive on San Francisco Maru. He was also part of one of the first dive teams on the Helmet wreck in Palau. The Judge also enjoys hiking, white water rafting, skiing, parachuting, and taking part as the computer information systems advisor for public libraries.
Recent Publications:
"Digital Justice", Ohio Lawyer, November/December 2001, Volume 15, No. 6, Ohio State Bar Association.
"Take this Job and Change it!", For the Record, Fourth Quarter, 2001, Ohio Judicial Conference, reprinted with permission in The Ohio Lawyers Weekly, March 4th 2002.
"Tom's Computer Tips for Non-Techie Trial Judges", For the Record, Third Quarter, 2001, Ohio Judicial Conference.

Other information:
Judge Zachman and his wife, Jane, are currently working on establishing a fourth major museum in Ripley, Ohio, commemorating the life of John P. Parker, a former slave and black inventor, who resided in Ripley until his death in 1900. They are also actively involved in the delivery of library services in the southern and eastern parts of Brown County. A primary joy and chaos in the couple's life (other than their children) comes through the antics of a long hair dachshund named Waffles. Their daughter Laura and her husband Nate both lawyers practice in Milwaukee, Wisconsin. Elizabeth is currently attending the Tulane University School of Law in New Orleans, Louisiana.